Mexican Hammocks for the garden
A Mexican hammock floating gently in the garden on a warm sunny day is an inviting picture of languid tranquility. Softly swaying in a light summer breeze amidst shafts of diffused sunlight .... yes .... this is what gardening should really be about.

---
A Mexican Hammock - The Perfect Garden Addition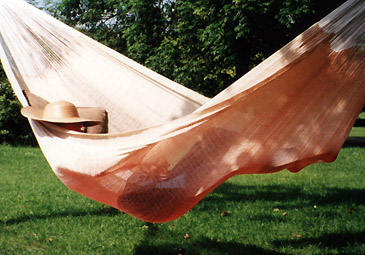 Mexican hammocks are perfect additions to any garden. They're stylish, contemporary, unusual and very beautiful. They are designed for blissful comfort and relaxation.
Deceptively simple, the elegant curve and strong colours of our hammocks form a natural focus in photographs. Each hammock is unique and is handmade using a complex weaving technique as old as the Mayan civilisation who developed it. In the summer hammocks look just as good hanging on frames against backgrounds of decking and terracotta as slung from trees in traditional cottage gardens. Inside the house they bring beauty and versatility to any room.
There are so many ways to hang a Mexican hammock. If you're lucky enough to have two trees the right distance apart then a couple of lengths of rope is all you need to enjoy that lazy day feeling. A small city garden can also be the perfect place to hang out. Masonry bolts are easy to fix into a wall and strong enough to hold Goliath. A screw eye can be used in a normal fence post for the other end which can easily double as a feature for climbing plants such as clematis, honeysuckle and jasmine. Dappled light filtering through overhanging leaves makes a blissful haven in which to doze, read or meditate peacefully.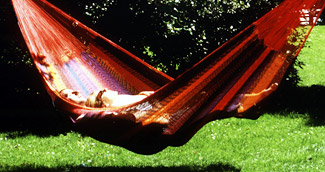 The 'Instant Garden' look featuring decking and terracing is perfectly complimented by the fluid shape and vibrant colours of a Mexican hammock. Specially designed frames add versatility allowing the hammock to be moved to where the party is - or over to a peaceful nook for some quiet contemplation. In contemporary gardens where lines, shape and texture are so important, a Mexican hammock brings an additional design element which combines simple practicality with stunning aesthetics.
Mexican hammocks come in sizes and styles to suit any garden - from the hammock chair to the family hammock - perfect for a family of five. There's no better way to get the garden party swinging or a nicer place to enjoy a glass of wine and a chat with a friend.
Our hammocks are hung everywhere - from city warehouse apartments to balconies, swimming pools and gardens. Wherever they hang the benefits are the same. They're beautiful, comfortable and very versatile.
Order one today and realise the full potential of a real Mexican hammock.