A Hammock For The Beach
A hammock on the beach is one of those classic image which stays in your memory for many years. Hammocks and beaches are parts of the same picture suggesting a calm, stress free, languid atmosphere. Buy one now for your next beach holiday, it's a purchase that you'll never regret.

---
A Mexican Hammock - Essential Beachware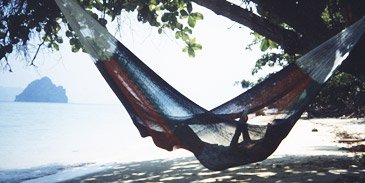 Forget those plastic sun loungers, Mexican Hammocks are infinitely more versatile and comfortable. They are the essential item of beachware. These organic dream machines caress and relax the body giving your mind the time to wander and relax.
The fluid shape and vibrant colours of a Mexican hammock bring beauty and versatility to any environment. On a secluded beach they will softly soothe the body and replenish the spirit.
Contemporary, practical and very beautiful. Your hammock will become a much loved travelling companion for all of your adventures! Softly swaying, gently caressed by that cool sea breeze, relaxation guaranteed!

Pack your hammock wherever you wander!
Blissful comfort! Total relaxation! The essential item Of beachware! Beautiful, comfortable, versatile, and affordable!
Order a hammock today and enjoy life to the full!