About Hammocks
A Mexican hammock is one of the most comfortable and versatile pieces of furniture you are ever likely to come across. For over 4000 years these superb beds have been the main, and often only, piece of furniture used by the Mayan peoples of Central America. Today, millions of people all over the world use a hammock as their main choice of bed.

---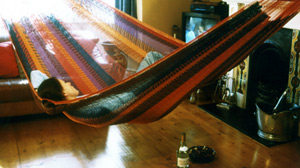 The hammock is used extensively in Central America and is a classic example of a timeless style conveying natural strength, harmony and tranquility - major factors influencing modern Mexican interior design.

Our hammocks are handwoven in Mexico from soft, strong cotton yarn which moulds itself to the shape of your body. The end strings of each hammock are made from tough nylon thread for extra strength.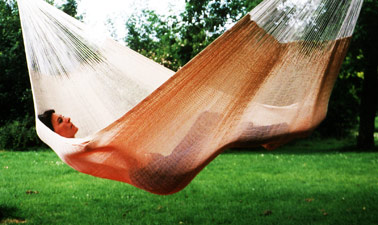 Outside the home it is not necessary to have two ideally spaced trees for your hammock. A post, exterior wall or tree can be used as a permanent fixing point and it's a simple affair to rig up additional temporary supports. See our portable hammock stands.

Our Mexican hammocks easily fit into a shoebox and can be taken to the park, forest, campsite, etc. For travellers abroad our hammocks have become the essential item for relaxing on warm, sunny days in almost any situation.
Mayan hammocks are used throughout southern Mexico in place of beds, sofas and chairs. They differ from later copies as their great width allows a flat sleeping posture when lying diagonally.
Hammocks were originally designed to be used diagonally. This is not possible with European hammocks which are generally very narrow and constrictive. When lying across a real hammock your body weight is distributed over the weave providing good back support, a flatter lying position and greater comfort.